So I was sitting in Starbucks the other day (oh how I wish less of my stories started like this), and I noticed a girl walk in wearing the most adorable leopard print tights. Naturally, I gawked for a few minutes, taken aback by her bold pairing with a red winter coat and leopard print scarf. Rather than create awkward conversation about where she purchased these fabulous tights, I did what any modern woman would do– I googled it. Now, while I wouldn't personally recommend a leopard on leopard look, I can say that I am a huge fan of the playful tight. After some modest research, this is what I found for fun, but wearable, tights.
Splash Metallic Tights $13.00
Nordstrom Leopard Print Spanx $42.00
Similar pair at Forever 21 for $5.80
Argyle Tights $5.80
Bonny Dots Patterned Tights $62.00
Comparable Tights available at Urban Outfitters $9.00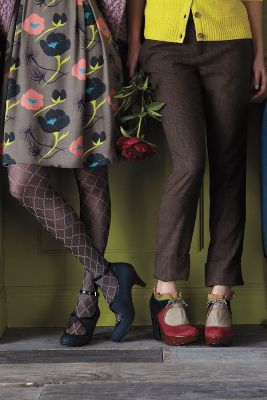 Anthropologie Spotted Diamond Tights $18.00
Giraffe Tights $14.00
I personally favor the giraffe print… What's your fave?
-Day